Business Development Workflow Sample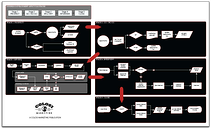 Download the Business Development Sample Workflow
Kick off a collaborative workflow session with your marketing team. Since business development activities seem to dominate our daily work schedules, start off by working through and refining how your team approaches each stage.
Some of the benefits to mapping the business development lifecycle will include:
Shared understanding of your firm's business development workflow
A visual diagram to communicate marketing activities.
Eased new technology implementation.
Begin a workflow collaboration with your marketing team today!
Download the sample diagram to begin the effort.
Download the business development sample workflow.