Dynamic Website Content Map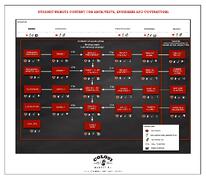 Turn Business Development Upside Down with Inbound Marketing!!
Earn your prospects' attention by offering relavent and valuable content on your website. Compare and contrast your existing website to the Dynamic Website Content Map. This tool will help you turn your website into a lead nurturing tool.
Conceptualizing dynamic website content will:
Offer refreshing alternatives for winning your prospects' attention.
Bring you one step closer to being found by prospects who are looking for your specific services.
Take advantage of existing resources to launch a lead nurturing campaign.
Take the first step toward innovating the way you procure work. Fill out the form to download the dynamic website content map today!
Download the Dynamic Website Content Map!