7 Ways to Prepare For Responsive Web Design

By
Chris Reyes
·
2 minute read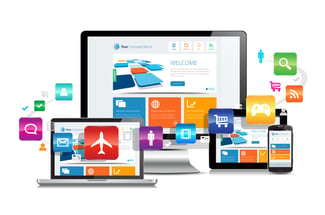 In this day in age, mobile devices are everywhere. Hosting a website with a mobile equivalent is essential in today's business environment. Specifically, a website's layout should no longer be constrained to a desktop platform, nor should the design be developed to support specific devices. An adaptive website creates a more positive user experience and benefits first impressions and engagement. In today's business environment, dynamic, flexible layouts reign supreme. This post aims to provide the necessary information to help your business dive into this simple yet highly technical design approach.


Forgo the idea of prescribed sizes. In responsive web design, one size cannot fit all, nor can an assortment of custom resolutions tailored to each device. One must think and design in terms of infinite scaling, with a flexible layout encompassing both portrait and landscape orientations on a vast range of mobile and desktop platforms. A well-known example of such a dynamic design can be found in Kinja, the platform on which news sites such as Gizmodo, Jalopnik, and Gawker are based. Visit any of those blogs on a desktop, then promptly open them on mobile. You will find the same website with a dynamic design.
Distinguish between touch versus cursor input. Touchscreens are increasingly being used as a way for people to access Internet content quickly. In 2014, mobile platforms overtook desktops as the most popular way to access websites, rapidly approaching 2 billion users worldwide. Adaptive web design is an intuitive way to navigate via touch on mobile and cursor on desktops. Small details, such as further information via cursor hovers, can be implemented only on desktops. Hidden submenus can only be implemented on mobile; these details can be captured through responsive web design.
Think future-ready. If you are not going mobile, you're not going anywhere. Will your website display your efforts correctly if Apple releases a new iPad with a different resolution? A website that is adaptive to today's mobile devices must be easily transposed to tomorrow's release with minimal effort.
Percentages, not pixels. Without delving too far into development, CSS, one of the major backbones of responsive web design, introduced methods allowing for flexible layout and media integration into its framework. All in all, pixels and inches are not dominant in the sizing of each website component but instead percentages. The sheer range of resolutions and display sizes prohibit fixed numbers from being responsive.
Be a master of platforms. Many website visitors will still access pages via legacy or outdated platforms. Make your site's navigation work just as well on an iPhone 4S as on the latest 6S release. Mobile and desktop users will benefit from this ethos. Apply a progressive development technique to test your site's adaptability. Use mobile platforms as your sandbox, allowing you to fine-tune your website using a ground-up approach. It's much easier to convert a website from a small screen to a large one.
We can't have two, three, infinite Internets. Several website owners believe a site built for a desktop should not be accessed via smartphone. This belief can quickly be dispelled in favor of a foundational website with queries (tags) to differentiate between devices rather than developing websites for every platform under the sun. Adopting a singular standard is the norm, and this approach will allow your firm to instantly reap the benefits of creating a more sustainable, minimal, modular platform.
Responsive web design is evolving. To ensure a seamless user experience, one must continuously optimize. Regularly keep up with new development and design techniques to discover new and exciting solutions. Taking this approach will lead to a much better return on your investment.
What is your experience with responsive web design? Share your experience with our audiences in the comments section.
Contact Colosi Marketing today and let us help your firm plan for a dynamic, responsive web design.