Colosi Marketing Gets a Brand Refresh
We are pleased to announce the refresh of Colosi Marketing. You'll find our marketing practices remain the same but with a heightened focus on our rapidly changing built world.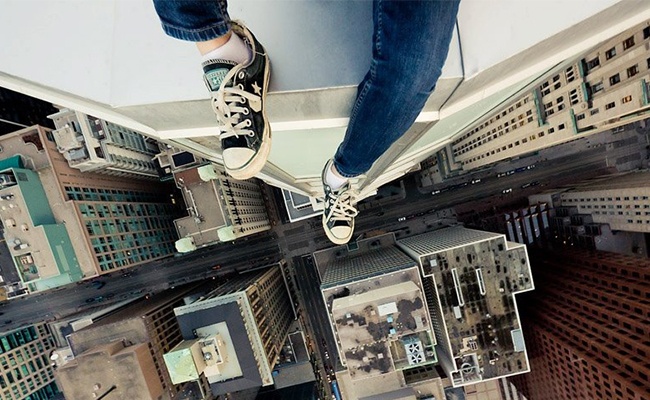 Our original mission is still relevant after ten years! To promote our generation's most exciting designers, craftspeople, and tech professionals; to inspire, connect and build networks; and enrich our architectural heritage through a delightful conversation and sense of community. We've learned a lot from talented people in our industry, and our experiences continue to inspire us to sharpen and refine our focus.
Our refresh includes a much-need website and blog update. We are grateful to Hans Bennewitz of Mode Design for continuing to provide his creative and insightful guidance on our site's design - he is a true talent and a valued team member! Every great site design requires solid development. David Sudarma of 95 West made our website vision a reality. Hans, David, and the entire Colosi Marketing team collaborated to make this site a reality.
When planning our new site, we focused on our message. This refresh required relevant content that addresses the marketing needs of our dynamic industry with a new and improved responsive site accessible from your desktop or mobile device. Working with our clients and colleagues, we are entirely captivated by CHANGE.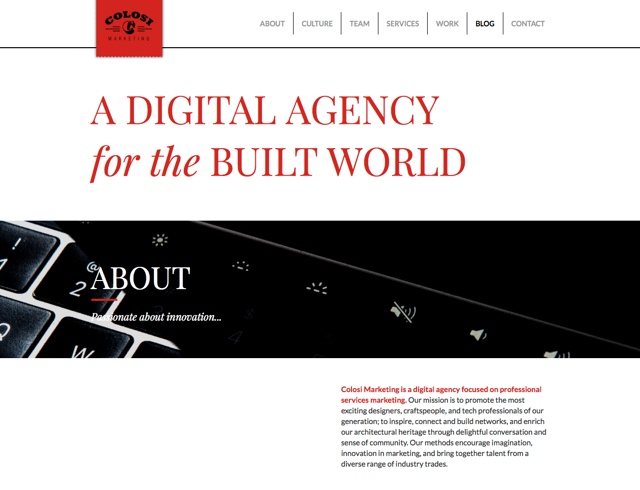 Technology is revolutionizing the built world. Technology transforms how we design, construct, and exist in the built environment, from cloud-based modeling software to post-occupancy building systems. There is not one building type that is not touched by innovation. Look around, and you'll quickly find transformative stories on homes, commercial offices, industrial warehouses, healthcare facilities, hotels and resorts, public attraction venues, and educational campuses. The demand for instant access to information and data affects all designers, craftspeople, and technology providers. The driving force is building performance.

Colosi Marketing continues to promote people who shape the built world. From architects to facility managers, there is a tremendous need for thought-provoking and relevant storytelling. Guided by inbound marketing methodologies, we aim to attract, educate, engage, and delight audiences. The intent is to build goodwill among all stakeholders and nurture relationships with like minds.

We are energized by:

We are energized by the following:
+ Virtual Design and Construction
+ Design, Engineering, and Building Software Solutions
+ Experiential Design and High Sensory Environments
+ Visualization Technologies
+ Ground-breaking Architectural Systems
+ Cutting Edge Building Materials
+ New Project Delivery Methods


+

Smart Gear for Builders


+

Transformational Procurement Methods
+ Building Performance
+ Smart Infrastructure



Colosi Marketing plays a key role. Change takes work. With every innovation, there is a human consequence. Like any other inbound marketing agency, we use the powerful tools at our fingertips to share your story, including content marketing, search engine marketing, email marketing, and social media marketing. Our intimate understanding of the subjects affecting our discipline is what makes us unique. All our efforts support your business goals. Real-time reporting on our activities allows us to evaluate what is working and what needs refinement. To better serve you, we plan to cover the innovations changing our industry and the people making a difference. Let's work together to make each project experience extraordinary.