The lifetime value of a client for a professional services firm can be considerable. It's also a basic business truth that it's less costly to keep an existing client than it is to find a new one. To achieve the greatest long-term value from your clients, it's necessary to build up sufficient customer loyalty to ensure the client will stay with you for as long as possible.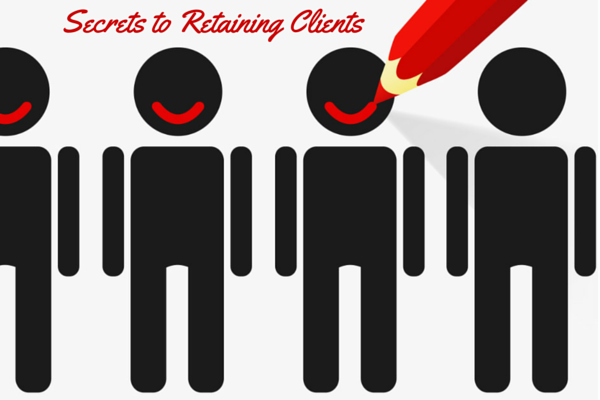 Here are fundamental secrets to client retention that will help make your clients lifetime supporters:
Provide superior customer service: Exceptional customer service is the foundation upon which effective client retention is built. Give clients the full benefit of your professional attention and expertise, but don't hesitate to provide the extra effort that will distinguish you from your competition. Even small things that clients appreciate can have a large cumulative effect on client retention. Respond promptly to questions or complaints. If your cell phone drops the signal, call your client back immediately. Contact clients promptly when problems or concerns arise.

Develop a personal relationship with your clients: Professional services occur with a one-to-one exchange as opposed to the interaction that typically occurs in a retail environment. This gives you a perfect opportunity to build customer loyalty by making your client relationship more personal. Know and use your clients' names. Find out about their families, hobbies and concerns, and ask about them with genuine interest. Send thank you notes, special occasion cards and keeping-in-touch emails. Make a point to be thoughtful and go above and beyond your client's expectations. When you do, they will keep coming back.

Offer loyalty programs and rewards: Establish a loyalty program or a system of rewards. The key to developing the right program for your firm is to devise a way for clients to use it regularly. The rewards could be as simple as discounts, coupons to area businesses, prizes or other incentives.

Ask clients for suggestions and feedback: Ask your clients for their sincere feedback on your services. Ask them what you're doing right, what you may be doing wrong, and what you could be doing better. Also find out what kinds of additional services or products your clients might want.

Build client relationships beyond the single point-of-contact: In order to be effective with any client, you need to develop relationships that extend beyond the designated point-of-contact. Encourage open lines of communication and keep the team apprised of work activities in a timely fashion. Regular Internet meetings, in-person meetings, phone calls, email correspondence, and collaborative files are just a few ways to encourage engagement. When you are working together with client representatives, you become an integral part of the team. Ultimately, a team that works together succeeds together.
Lasting client relationships take time and are developed through consistent client engagement; regular touch points establish an emotional connection between your firm and the client. While efficiency is a priority, being able to create an emotional attachment to your firm is a very relevant part of the equation.
Did we miss any fundamental client retention techniques? Please share your techniques with us in the comments section.
Contact Colosi Marketing today for more information on client retention and for professional assistance with building client loyalty process and programs.