5 Steps To Create A Professional Services Content Marketing Strategy
It is time to begin a business development and content marketing playbook. Start the playbook by conceptualizing a rich media experience that spotlights your talent and captures the compelling project story. Blend content and media goals and objectives into an engaging website experience that offers project storytelling. Let's realize your vision to nurture relationships interested in working with your talent.
STEP 1: WE KNOW OUR AUDIENCE – LET'S ENGAGE THEM!
Any A/E/C professional involved in business development has a profile of their target audience to develop content that addresses their immediate concerns. We know our ideal clients and project prospects. We are adept at understanding their concerns and needs. Today, we reach our client prospects through an arduous paper-ridden business development process. We've been working hard to address the audience with proposal content that no one reads! It is time to repurpose our message into a rich content experience that engages and entertains our audience.
STEP 2: LET'S TAKE A LOOK OUR AUDIENCES' THEIR ONLINE ACTIVITY
We have a clear understanding of our audience's needs. Now it is time to take a good look at their activity online. What do our client prospects do online? Do they read blogs? Are they active on social media? Are they email subscribers? A/E/C marketing and business development professionals must evaluate what information their audiences want. Are they looking for industry tools like worksheets? Are they watching online videos? Discovering our audience's online activity is key to providing a rich professional services content marketing strategy.
STEP 3: REVIEW YOUR CONTENT FOR PROJECT STORYTELLING
Let's say we know our audience and familiarize ourselves with their online activities. Let's examine our previous efforts by conducting a content audit. Do we have a good mix of content that tells our story? A close look at the content will allow you to identify great pieces of content that can be repurposed into other formats to capture your audiences' attention. Content formats that will capture the audience's attention are blog posts, reports and infographics, videos, and project case studies.

The project lifecycle stages spark great story concepts that will capture your audiences' awareness and lead them through the built world. Below is a diagram that identifies content opportunities for sharing your story.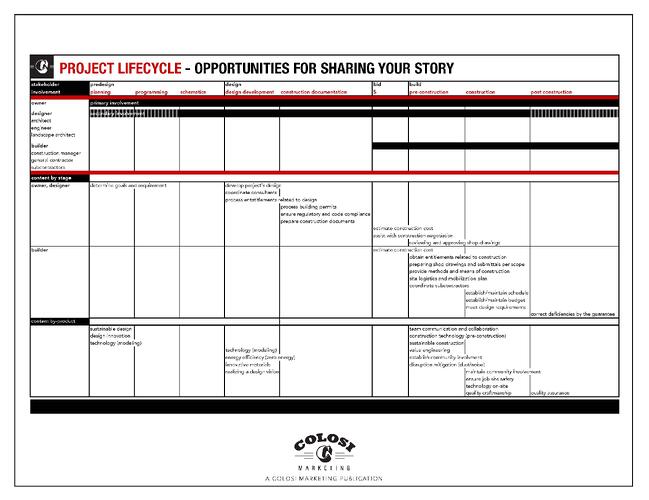 DOWNLOAD OPPORTUNITIES FOR SHARING YOUR STORY
STEP 4: MAP CONTENT TO THE BUSINESS DEVELOPMENT LIFECYCLE
Content is critical in the business development lifecycle and should be a part of your inbound professional services marketing strategy. Your strategic content positioning will generate awareness about your firm and assist with converting your prospects into clients. First, consider your prospect's requirements for qualification in the early stages of the business development lifecycle. Then identify what steps the prospect needs to go through to become a client. Typical qualification stages in order include awareness, research, and comparison, which results in a request for proposal.
STEP 5: MAP YOUR CONTENT TYPE TO THE QUALIFICATION STAGE.
Identify types of content and the media formats that work best for each stage of the business development lifecycle. Your prospects may engage with choice media channels throughout the business development lifecycle. However, all of the content will make an impact and play a role in decision-making. The following is a suggested qualification stage for the content type.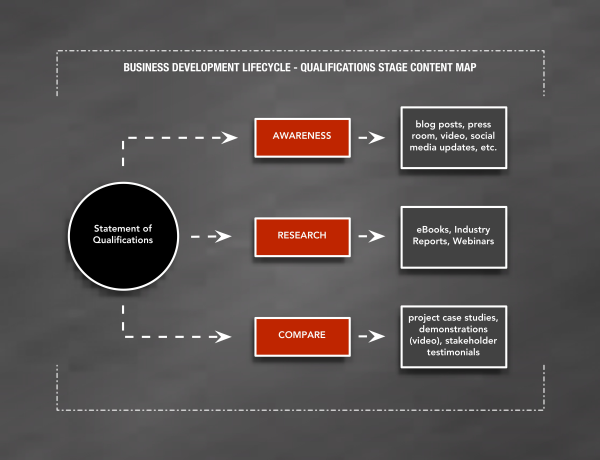 Check out the article Open New Doors with Targeted Lead Generation to learn more about to further developing your content marketing playbook.

Reference Turn Business Development Upside Down with Inbound Marketing for additional information on incorporating a lead-nurturing campaign with dynamic website content.