While the rules of attraction for the human species are not clearly understood, the rules of attraction in the game of inbound marketing are pretty clear-cut. The scientific rules have already emerged. Inbound marketing works on a conscious level to motivate complete strangers to take action for reasons that are tucked inside your firm's content.
Think back to when your long-term client relationships began with a spark. That spark is that initial message or action that caught their attention. What is that spark? What caught your client's eye? It may not be just one thing; it may be a series of things that initially attracted your clients to your firm. In an attempt to understand client attraction further, refer to the definition (source: dictionary.com) provided below:
Attraction Defined:
attractive quality; magnetic charm; fascination; allurement; enticement
A person or thing that draws, attracts, allures or entices.
A characteristic or quality that provides pleasure; attractive feature.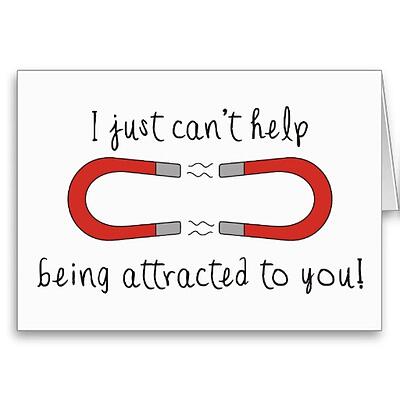 (source: zazzle.com)
Attract with Inbound Marketing: In the recent post, Inbound Marketing Workflow for Professional Services Firms, the "Attract" stage is the first step to applying the inbound marketing method (refer to diagram below, Source: HubSpot). Applying the laws of attraction to the first stage of inbound marketing will ensure that you will appeal to strangers by creating that spark that get's their attention.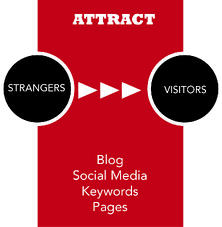 First, it is important to identify "who" are your ideal clients. You will never understand how to build a successful business unless you research and discover clients that are a suitable fit. To determine "who", a firm needs to understand the characteristics of their ideal client. These characteristics need to be described in a client profile that covers a group's behaviors, unique needs, challenges, objections to services, as well as, demographic information. Every professional services firm caters to a few client profiles or personnas.
After you have a clear picture of "who" you'd like to attract, you possess the information you need to develop messages that charm, fascinate, and entice. These messages can be delivered through a series of inbound marketing tools, including:
Blogging:

A blog is the best method for attracting new leads and getting found by the right visitors. The blog is a forum for providing educational content that speaks directly to your target audiences.
When you apply the laws of attraction to blogging, you provide content that charms, allures, and entices by providing posts your ideal clients love. In addition, you firm aims to charm audiences with your firm's delightful personality.
Social Media: To attract a greater number of audiences, you must share your content through social media channels that will engage your communities and, also, provide a friendly, meaningful message that will build your brand.
When you apply the laws of attraction to social media marketing, you provide content that attracts your ideal audience by providing content that makes an emotional connection or shows common interests and may spark their interest.
When you apply the laws of attraction to keywords, you incorporate high-frequency words, used by desired audiences, in your blog, social media, and website pages. These keywords will ensure that the strangers, who are looking for your firm's unique qualities, find your firm.
Pages: Your website needs to be able to attract the right visitors. These pages should offer fresh content that keeps your visitors coming back to your site.
When you apply the laws of attraction to your web site pages, you provide content about your leadership, services, philosophy, and portfolio that allures, entices your audiences to want to learn more.
The rules of attraction in the game of inbound marketing are pretty well understood. When you take the time to understand your target audiences, you will be able to provide content that generates the spark that attracts strangers and, ultimately, wins their hearts and minds.