When it comes to nurturing relationships with website visitors, you need to get beyond the initial attraction and impress audiences with content that keeps their interest. The next step is to convert visitors into leads for business development by gathering their contact information. Contact information is essential to continuing engagement. The question is…"how will you get visitors to voluntarily provide their contact information?" The answer to this question is that you need to give them something in return in the form of content. Content can be in the form of ebooks, whitepapers, or tip sheets – whatever information would be of interest to the industries you serve and associated client profiles. Once you master content, you will have as many leads as you can handle.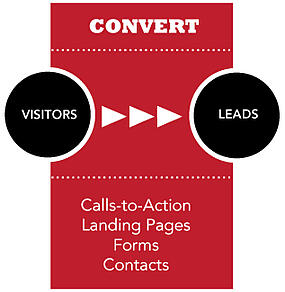 Source: Hubspot
The following tools will continue the spark and convert your visitors into leads:
Call-to-Action: A call-to-action (CTA) is a statement or message that urges readers or audiences of promotional content to take immediate action, such as "call now," or "download now." The calls-to-action take the form of buttons or links that encourage your visitors to take the next step, like "Download this Checklist" or "Attend our Seminar." If you don't provide enough calls-to-action or promote action, you will not generate leads.

Landing Pages: A landing page is a website page that aims to capture visitor's contact information through a lead form in exchange for content (eBook, whitepaper, webinar, free consultation, etc.). Landing pages play a critical role to inbound marketing methods. Once a visitor clicks on a call-to-action, they will be sent to a landing page. The landing page provides fulfillment to the call-to-action by providing a place where a visitor can provide their contact information. This contact information can be used to deliver more great content or strike up a conversation with a business development professional.
Landing Page Forms: To convert a visitor into a lead, it is important to present them with a way to provide their contact information by filling out the form that is located on a landing page. The form is the key function of the landing page. Visitors will fill out this form to access your content offer. When you convert visitors into leads for your firm, you have the opportunity to nurture the lead to the point of closing the deal. To that end, it is important to make sure that filling out the form is a painless, easy step.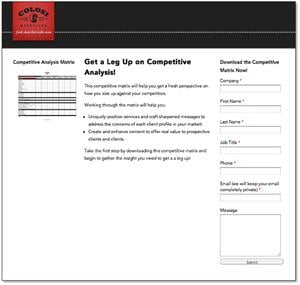 Contacts: Once you've converted your lead, it is important to keep track of these contacts in a centralized database. A single repository that tracks prospective client interaction allows you to discern what is the best next step. Interaction in the form of email, landing pages, and/or social media will provide valuable insight into future interactions to more effectively attract, convert, close and delight your audiences.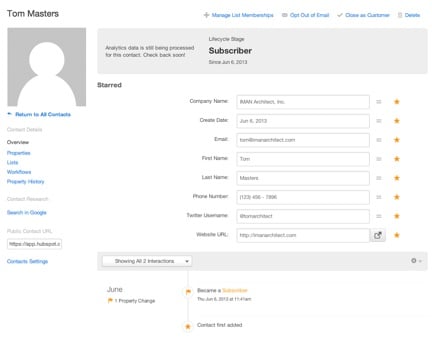 These elements are simple tools to assist conversion. It is up to the marketing professional to come up with the messages that keep visitors interested and encourage an exchange that motivates them to willingly provide their contact information. Content allows the firm and visitor to truly get to know each other through a series of interactions that occur without pressure. Conversion is a time when the firm and a lead discover whether they will close the deal.
Conversion is the second phase of the inbound marketing workflow. To get a bird's eye view of the inbound marketing workflow, please refer to Inbound Marketing Workflow for Professional Services Firms. If you missed out on the discussion of the first phase, Attract, please refer to Methods of Attraction in the Game of Inbound Marketing.