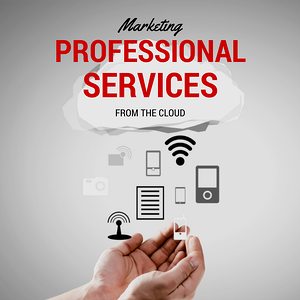 As you may have found, having your head in the clouds can be a good thing. It can decrease stress and enable some of your best brainstorming. It turns out that using the cloud for marketing, works well for some of the same reasons. Marketing via cloud is device independent, so you can engage with colleagues and audiences, reference data and assets, from anywhere, anytime.
Here are many reasons why you should practice professional services marketing in the cloud:
Real-time engagement - Cloud-based marketing software solutions allow marketing professionals to engage with audiences from their desktop, mobile phone, iPad, laptop or any other device that can access the Internet.
Quick and effortless marketing asset sharing - Sharing large files like video, for example, is no longer problematic. Use links and just forget email or snail mail. You can easily enable a distributed team with up-to-the-moment data and information. You're always on the same page, no matter where team members might be.
Level the playing field - The less money you have to spend on a network infrastructure, the more money you can spend on inbound marketing.

Smaller marketing departments have the ability to be just as collaborative because they now have access to an infrastructure that only larger companies enjoyed.
Eased marketing campaign execution – Cloud-based marketing applications can be set-up quickly and will greatly transform your activities. By creating an environment for collaboration, you and your colleagues are able to campaign together by accessing the same assets, sharing and creating content, and delivering timely messages to your target audiences. These applications allow you to streamline the process and really focus on your message.
Easy access – Do you need a fully functional mobile office? With a mobile device in hand, you can stay plugged in to the latest info anytime during travel, at a conference, working from home, etc. As an added benefit, cloud-based applications are easy to set up and use.
Data insurance – Cloud services generally enable frequent, automatic data backup and syncing. No more worries over losing content stored locally (on computers or in physical files) from theft, device, server malfunction or natural disasters.
Free up your own hard drive – File storage, including images, audio and video for marketing use, can go to the cloud rather than taking up space on your laptop, phone or local server.
Staffing options and savings – Cloud services provide auto-updating so you might not need your own full-time IT staff. As a nice side effect, you can save on office space, utilities, and the like if you opt not to have your whole crew in-house daily.
Fast, as-needed scaling – You no longer need to determine how much storage it will take to hold all of your data. Instead you just purchase what you need and reduce your upfront investment. By using the cloud for marketing and data support, your business has flexibility to grow quickly. Start out small, increasing cloud utilization over time, but you'll only pay for the services and cloud space you need today.
Using the cloud for marketing isn't just for large firms. To learn more, contact Colosi Marketing.