Eight Ways to Apply Marketing Through Instagram

By
Chris Reyes
·
2 minute read
Once hailed as a simple application for posting and sharing photos and not much more, Instagram has evolved into an effective avenue to reach millions of potential clients with visual content. No longer constrained to images, videos can also be posted to appeal to audiences. Here are eight ways you can apply marketing through Instagram to increase your online reach and engage your community in a visually appealing way.
1. Combine the Instagram app with Instagram Profiles: Combine the Instagram app with Instagram Profiles: Use the web-based Instagram Profiles to broaden your reach. This online venue for Instagram images allows you to create collages, visual essays, and other image content that can give your audiences a clear picture of what your company does and how it does it.
2. Engage clients with contests: Get clients involved by running photo-based games on Instagram. For example, ask them to post images that support a particular theme you've chosen to highlight. Users can tag their photos with a hashtag that reflects the theme or intent of the contest. Choose a winner among the posted pictures and provide a prize, such as a gift card, discount, sample of your product, or service consultation.
3. Include promotional codes: Give clients a reason to look at your photos and read their descriptions by including promo codes within the images or text. These codes can then be redeemed for a substantial discount, a free sample, or another attractive offer. Limited-time offers can ensure that clients always look forward to the following discount, allowing for below-the-line marketing methods, such as word-of-mouth.
4. Spot Trends on Instagram: Certain hashtags and trends come and go quickly; utilize them to your advantage. Such components can attract a large group of potential clients within a short timeframe, thus helping to establish your company. Conversely, being late to specific trends can work against a company's best interest, demonstrating sluggishness in adaptation. Such an issue is more pertinent to clients and followers than leads—this is a small item to keep in mind, yet an essential plan.
5. Create a Brand-Specific Strategy: Establish a running visual theme to ensure the unique aspect of your business. The design components or method with which pictures are framed exhibit a certain mood or perception of one's plans. For example: if promoting a new product, use visuals that will showcase it in a relevant manner. The adage, "should not judge a book by its cover," is hard to follow, especially in dynamic environments such as social media. Therefore, captivating and visually stimulating images and videos are essential.
6. Highlight your clients: Include photographs of your clients on your Instagram site. You could try a "client of the week" feature or post photographs of clients using your products or services. When prospects see clients engaged with your company, they'd be more likely to want what you offer. Furthermore, this allows clients to get into the spotlight.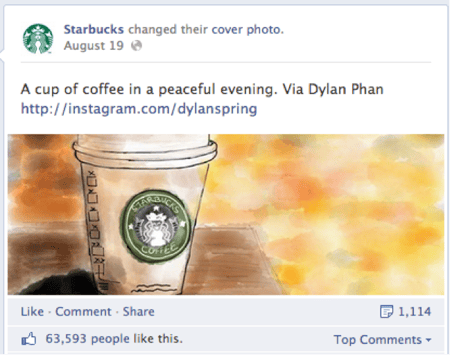 Example of how Starbucks showcases one of their clients' works of art, quite literally painting the company and its clients in a positive light.
7. Showcase events: Instagram can be used to spark interest in your upcoming events. Post images of your booth or display at trade shows, making it easy for Instagram users to find you in person. If you're sponsoring a charitable event, include pictures of the lead-up to generate interest, then post several images from the event itself. Lastly, remember to use the events' hashtags for even more reach.
8. Marketing is a Two Way Street: Like photos or videos that clients post, mainly if they include a product or service you create, help them feel appreciated for their efforts. Mention your clients with an "@" to engage with them and add a personal touch. These efforts should garner continued support from your clients and establish a positive impression.
Contact Colosi Marketing today for more information on marketing through Instagram and how to make Instagram a valuable component of your online marketing program.
Instagram Image via Facebook.com