If you are going through the annual marketing planning process and realize that you have not completely gone through the process of analyzing your firm's position in the marketplace, it may be time to begin situational analysis. Situational analysis is the process of evaluating the firm's situation as a whole and by market sector. The intent is to develop a sharpened marketing strategy which includes: understanding where the firm is today; envisioning where firm wants to go; and determining how the firm is going to get to where it wants to go. This process requires a keen sense of the firm's strengths, weaknesses, opportunities and threats (SWOT).
What is the situation?
Situational analysis explores the common needs of clients and prospective clients as a collective whole and, also, drills down to the more specific needs within each target market. This exploration requires data gathering from internal and external sources. Data gathering typically involves getting a perspective on your firm's strengths, weaknesses, opportunities and threats from clients, prospective clients, partners, consultants, vendors and employees.
If you are dragging your feet on data gathering because you need to get your marketing plan together, then you may choose to work together with firm executives to develop a preliminary perspective. However, it is a good business practice to conduct a thorough SWOT analysis. A thorough SWOT analysis is a resource for all your marketing activities and well worth the effort.
When you are ready to begin a thorough situational analysis, set the stage with a policy for an open and honest dialog about the firm's strengths and weaknesses. Prepare to reference the firm's competitive analysis matrix to develop a point-by-point list the firm's strengths and weaknesses when sized up against the competition. The real value in this effort ultimately lies in the marketing team's ability to provide a candid report that assists with making critical business decisions.
SWOT by Market Sector
Begin SWOT by revisiting your market analysis and looking over the associated client profiles. If you have not conducted market analysis, please read Market Segmentation: An Inbound Marketer's "Social" Bread and Butter. From this information, list and summarize the variables characteristic of each market sector and associated client profiles.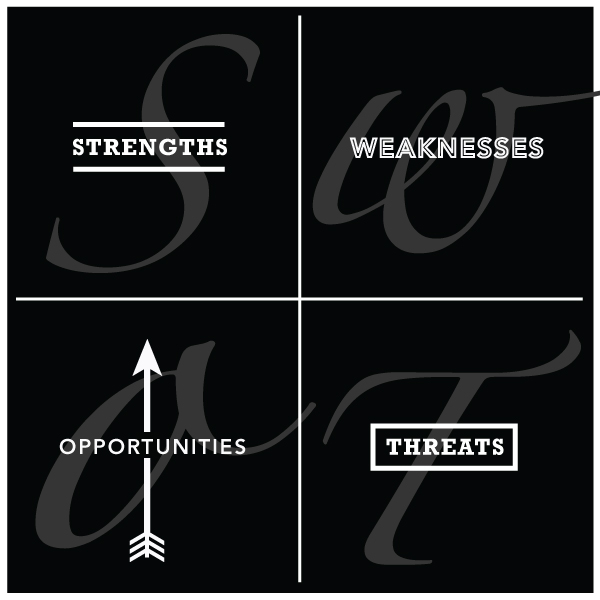 Once a summary of the market sector is written, it is time to begin SWOT by taking the following steps.
List the firm's strengths. Strengths are the firm's positive qualities or attributes. The firm has control over their strengths and there should be a plan to maintain and expand upon these strengths. Strengths are leveraged to gain an advantage.
List the firm's weaknesses. Weaknesses are the firm's negative attributes. The firm should incorporate a plan to stop and prevent further weakness.
List the firm's opportunities. Opportunities are external events that may present new and significant business prospects. Opportunities that are properly identified and investigated will present a positive shift in the firm's market position. It is a good business practice to investigate potential opportunities and have a plan for how to act on them.
List the firm's threats. Threats are external events that are outside a firm's control and have a negative impact on business. It is a good business practice to identify potential threats and have a plan for how to handle these threats should they come to fruition.
Use the SWOT Analysis to Get a Leg Up on the Competition
SWOT analysis requires referencing a matrix of the chief competitors in each target market. With a competitive matrix in hand, develop a list of strengths and weaknesses. The competitive matrix is also a place to compile market opportunities and threats and indicate the firm's position, point by point. Once the information is gathered, describe how the firm sizes up against the competition and discuss how the firm plans to address the competition. Identify the hard-hitting issues for each market sector. At the end of the this exercise, the marketing team should have a sniper focus on the strengths, weaknesses, opportunities and threats for each target market.
Once situational analysis is complete, it is time to generate a report on the firm's situation. The report begins with an executive summary of the firm's situation as a whole as well as its' position within each target market. The executive summary is followed with the SWOT analysis for each market sector. The SWOT analysis is followed with a series of conclusions with a plan of action. Once the first draft is complete, the marketing team should review for any refinements. Once you have a final draft in hand, the firm has a valuable resource document that can be used as a guide for a range of marketing activities.