Traditional prospecting and go/no go practices are difficult to analyze. At the prospecting phase, it is not easy to know which messages are on target and which messages are completely missing the boat. At the go/no go phase, you cannot quantify the level of a prospect's interest. Inbound marketing methods make it possible to determine which messages are resonating with your audience and also gage the level of interest. This post aims to help you set the stages for your firm's inbound marketing funnel.
Let's imagine how your firm's inbound marketing funnel may look. Picture how marketing and business development will align their methods for effective collaboration, for example: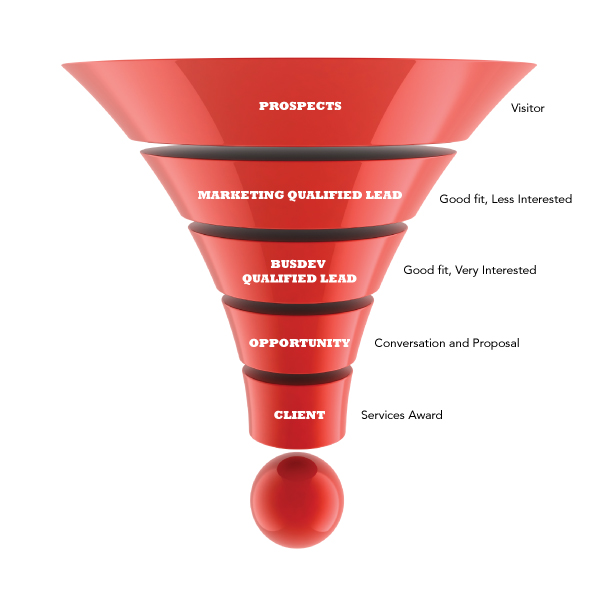 Identify Quality Inbound Leads
The quality of a lead will vary from firm to firm. Determining a lead's quality will help identify the point at which marketing hands off the lead to business development. A lead's quality is defined by a series of attributes and level of interest.
Some questions to consider when determining if the lead possesses the attributes that translate into being a "good fit" include:
Does the lead fit within your inbound marketing strategic plan?
How many years has the lead been in business?
What is the lead's job title or role?
Do you or anyone in your firm know the lead already?
What are your firm's points of interaction with the lead?
Also reference Market Segmentation: An Inbound Marketer's "Social" Bread and Butter to further develop your definition of a qualified lead.
Let's assume the lead is a good fit. Now you need to determine whether the lead needs further nurturing or the lead is ready for a conversation with a business developer by evaluating their level of interest. You will find leads generally fit into one of the four categories.
The lead is a good fit and interested in your content.
The lead is a good fit but less interested in your content.
The lead is not a good fit and shows a lot of interest in your content.
The lead is not a good fit and not really interested in your content.
Manage and Prioritize Leads with a Smartlist
Using a marketing software program, such as HubSpot, that captures lead data will help you and your firm determine the quality of the lead as well as whether the lead is a marketing or business development lead. With the marketing software program HubSpot, you have the ability to set up smartlists that capture "good fit" attributes and determine interest level for targeted lead nurturing activities.

Identifying Behaviors and Trends
Once you've captured information about your marketing and business development leads, you will be able to identify a lead's behavioral trends. In essence, you will be able to identify a lead's sweet spot by their content conversions, i.e. downloading a report, checklist or eBook. In addition, you will see activity patterns that signal whether a lead is likely to become a client. A higher conversion frequency is closely related to increasing odds of a prospect becoming a client.
Measure the Effectiveness of Varied Lead Interactions
Create different lead interactions that take place prior to becoming a client and analyze the effectiveness of the interaction by determining the close rate. For example, if you decide to have a webinar, determine the effectiveness of the webinar by taking the actual number of webinar attendees and divide that number by the total number of leads who originally registered. The result is the close rate for leads from that event or activity.
Optimize the Stages of Your Inbound Marketing Funnel
Once you've set the stages of your inbound marketing funnel, actively optimize each one of the stages by analyzing the associated metrics, including:
Prospect to Marketing Lead Conversion Rate
Marketing to Business Development Conversion Rate
Business Development to Opportunity Conversion Rate
Opportunity to Client Conversion Rate
Business Development Cycle Length
Measuring the effectiveness of your inbound marketing efforts at every stage will allow for a consistent stream of qualified pursuits. Being able to identify when and where there is a weakness in your funnel and possessing the methods to respond to that that weakness will ensure an effective and efficient marketing effort.