6 Tips to Incorporate Social Media into Your Firm's Email Marketing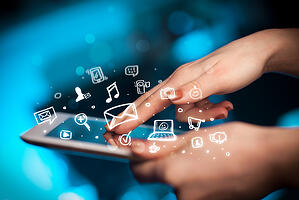 It's always a good idea to integrate your marketing efforts, presenting a unified presence to your clients and prospects. When interacting with your audience via social media and email marketing, take the opportunity to refer to your other channels, establishing as many forms of contact with your audience as possible. You'll then have a variety of ways to keep in touch and disseminate your messages. In addition, clients are likely to find available their preferred method of interacting with your brand. This increases the likelihood that they'll welcome your updates and keep in touch, one way or another.
Here's how to bring everything together:
Use handy social sharing icons: Include them in your email so readers know you're reachable on several networks.
Be specific: Subtlety in sales talk can work well long term, but CTAs must be straightforward. Ensure you're explicit about exactly what action you'd like the reader to take next—especially when connecting on various channels and sharing your content. Ask: "if you found this tip helpful, share it!"
Be specific: In social media and email marketing, you can further call out key parts of your message for sharing. Add a "Tweet this" link next to that key content. The easier it is to share, the more likely it will be shared.
Practice creative coercion: Make it obvious what good things the action you're asking for will provide for the email's reader. Offer a prize for the most prolific sharer, like a chance to win something if they follow you on social media.
And vice versa: Promote your social media pages in email communications and promote your email list on social media. Ask followers to subscribe to your newsletter or join your email list for the latest design trend information, professional advice, or how-to tips.
Add a signup form to your Facebook page: There's an app for that. A readily available and simple email signup should get good results.
If you would like more information about social media and email marketing, you can contact Colosi Marketing.
Image via Shutterstock.com