8 Marketing Campaigns Don'ts — Do Any of These Apply to You?
It's frustrating when a marketing campaign you've worked hard on falls flat or doesn't perform as you'd hoped. When this occurs, take the opportunity to examine underperforming campaigns, treating them as a learning experience. To narrow down what may have gone wrong, see if one of these marketing campaigns doesn't get in the way of success: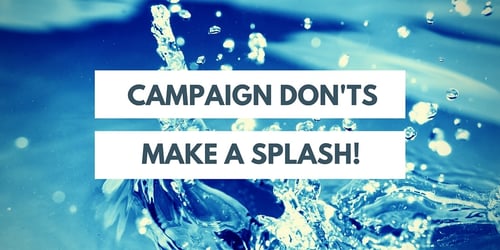 1. Don't take your eye off the target - Don't do what you think is best unless it fits your audience. Even the cleverest idea in the world won't fly if presented to the wrong audience. Put together audience personas of typical individuals who use your services. Describe their age, gender, economic level, career (or position in the company if dealing with a business audience), whether they have kids, etc. Imagine what the needs of each persona might be. Combine persona information with keyword/trend research and see if the campaign you're planning fits. Then go forward.

2. Don't let your online presence go stale - Is your Twitter account languishing? Is your last blog post months old? Have you sent anything valuable to your email list lately? Try to post to social media at least twice weekly and blog once, but remember, more is better! You can't stay top-of-mind with your audience if you let the momentum you've built up slide away. Don't lose touch with the audience you've worked so hard to build!

3. Don't deliver a sales pitch – A self-serving promotional email is a complete turnoff. Consider what your audiences want or need the latest industry trends, entertainment, and timely, relevant news. Keep them interested by mixing up the content!

4. Don't remain aloof - Some marketing campaigns falter because they're thrown onto your website or social media and left to sink or swim. If you don't follow through on your campaign and support it with energy, involvement and activity, your audience won't be into it either. Create deeper relationships between your brand and audience by interacting with followers, fans and potential clients. Respond to key comments and like all the others so that you keep the interaction alive.
5. Don't press send without testing. Before you release a campaign for general consumption, always test. A great campaign message can easily be sabotaged with a faulty launch. Also, consider some A/B testing or creating different campaign layouts to see which approach is more effective. Play with your options. A great audience deserves your attention to detail.
6. Don't SPAM! - There is absolutely no exception to this rule. You communicate with an individual or organization without permission when you send spam. Simply put, SPAM is illegal. Also, SPAM damages your reputation and cheapens your brand. You look desperate. Don't fall into this category.
7. Don't frequently send emails - Don't abuse the moment you have to capture your subscriber's attention. Think of creative ways to get your subscribers excited about your next email. Reflect on how you feel when you receive constant messages without purpose.
8. Don't hide the unsubscribe link - If you've followed this list and developed a well-thought, targeted campaign message, your audiences will not unsubscribe. Burying the unsubscribe option demonstrates a lack of professionalism. Taking away the reader's choice to receive email is terrible form. It proves you are unaware that your presence intrudes on someone's time. Be grateful for their time and give them the option.
If you recognize any of these marketing campaign don'ts, simply refine your current campaign or keep these tips in mind for next time. You'll be surprised how much difference keeping your campaigns relevant, fresh, and energized with interaction will make. Sometimes it's just that simple! To learn more, contact Colosi Marketing.