In a high-tech world where it's easier than ever to screen calls, traditional methods of lead generation such as cold calling have lost much of their effectiveness. Instead, the effective marketer must look to more productive techniques such as inbound marketing to increase lead generation. This marketing method aims to capture the attention of desired audiences through rich digital content that can be easily found and encourages further engagement with a firm's website and/or media channels. This post discusses how you can use inbound marketing to your best advantage to improve lead generation, generate more qualified leads and boost sales.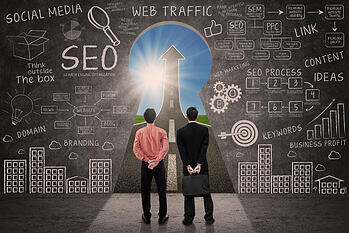 Think of your website as a business development tool - When you look up your firm's core service competencies on a search engine, can a prospective client find you through a keyword search? Search engines have replaced traditional phone books and allow us to quickly find the products and services we need. Are your missing out on viable leads because your prospective clients cannot find the products and services you provide? It is time to work outside of your prospect list and nurture leads that are actively looking for you. Being "found" along with earning your prospects interest through rich content will allow you to focus on a prospect that has genuine interest in your services. For more information on SEO and being found, refer to

Get Found! Rank with SEO for Professional Services.

Inform and educate instead of "selling" - Establish websites, social media pages and blogs that present and provide useful information that educates your desired prospects, leads and customers. Avoid selling or presenting overt marketing messages in these venues. People love to learn, get informed and be entertained, but they don't like someone trying to obviously sell them something. Develop rich online content that helps leads and customers learn about your products and services. Offer industry insights and helpful suggestions on how clients can approach and solve problems on their own.
Work toward your market's interests - You are familiar with your clients and your industry, which means you also know what topics will

interest a potential lead

. Focus your blog posts, website material and social media activity on those interests with, at best, rare forays into other topics. Keep your material focused and helpful, with frequent posts and articles on subjects that will be of the greatest interest to potential clients. This helps build your reputation as an expert in your field and

improves your credibility

as a reliable source. When you effectively inform your clients and give them good reasons to believe you're the best choice to meet their needs, they will be much more likely to contact you.
Give away material of value - It's true that effective inbound marketing requires you to give a lot of information away, but the rapport and goodwill that results will increase lead generation and client satisfaction. An individual you've helped with an issue through free information will be more likely to come to you when their problems need a more advanced solution.
Repurpose successful traditional activities into a digital strategy: Try repurposing your intellectual capital into a solid marketing strategy that earns your prospective clients' interest. Take a second look at your website and begin to conceptualize how you can develop or repurpose website content for business development. For more information, please refer to

Turn Business Development Upside Down with Inbound Marketing.
Contact Colosi Marketing today to see how inbound marketing can be applied to your firm's business development activities.
Image via Shutterstock.com