What's the largest and best network that allows B2B companies to well…network? If you use LinkedIn for professional services lead generation on a regular basis, you'll probably agree that they're it. This isn't to say that industry-specific forums and other social networks are unimportant. With all the online social channels available today, you shouldn't put all your eggs in one basket. Spending quality time on LinkedIn, however, is worthwhile for a number of reasons.
LinkedIn allows professional services firms to:
Build contact lists and deepen connections for company principals as well as the firm.
Increase brand recognition with your business page.
Keep up with industry trends and influencer posts using customizable LinkedIn Today.
Showcase expertise by starting and participating in discussions and groups, asking and answering questions and sharing relevant, useful content and insights.
Attain a reputation as an expert firm and gain followers.
Promote your content, with the usual social network norms of tact, of course.
Find and attract new professional staff.
Boost lead generation and client conversions.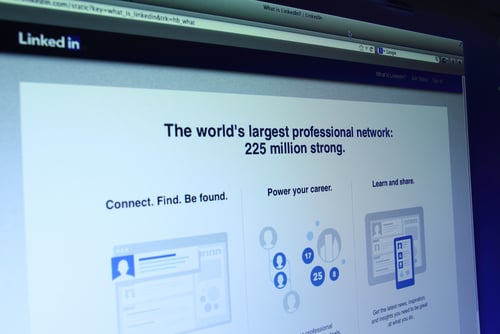 Using LinkedIn for Professional Services Lead Generation
Present Your Professional Portfolio:

Your professional portfolio is evidence that not only can you talk the talk but you can also walk the walk. Your prospective clients want to evaluate your body of work to see if you are the right candidate to perform services on their prospective project. Linkedin allows you to showcase your projects under your personal profile. Take stock of your presentations, ebooks, blog posts, videos and place them within your profile. This is an excellent opportunity for you to reveal your hidden talents to your extended network!

Search For Desired Connections:

Conduct a LinkedIn people search for desired prospective client companies. Once you've generated a list of results, get an idea of your first-degree connections (direct connection) and your second-degree connections. Narrow down the list by checking the second-degree connections box. This action will offer up a list of names of people associated with the desired company you'd like to do business with. On their individual profiles, you will find their shared connections – you now have all the information you need. Simply ask your friends to make the introduction – you are in!

Use LinkedIn's Metrics:

These metrics help gauge and guide your other activities. Review your clicks, shares, impressions and leads generated after your updates and discussions. If you have already decided to incorporate your body of work, or showcase your project portfolio, it would be particularly interesting to also see how this new information has impacted your profile activity.

Optimize Your Updates:

For maximum impact, try posting fresh updates at different times of day along with different wording. See what improves your metrics. Always remember that social media marketing is an ongoing process of evaluating what seems to be resonating with your audiences. Once you identify positive trends, you can make the necessary adjustments to make a greater connection.

Add Your Free Banners:

You can add three linked banners on your company page leading interested parties to targeted campaigns, your

firm's website

, recent blog post, downloadable or featured premium content.

Match Content Displayed To Viewer:

Present targeted content and calls to action linking to specific, purpose-built landing pages on your company page. Segmentation attributes may include location, industry, job title, business size and more.

Use Lead Collection:

When running an ad campaign, select the feature and a widget appears atop your company page. Visitors and prospects can leave their information instantly, with a click on the "Request Contact" button.
Embrace LinkedIn for professional services lead generation, and for more information about marketing for your firm, contact Colosi Marketing.

Image via dolphfyn / Shutterstock.com