A Guide for Plotting Your Inbound Marketing Strategy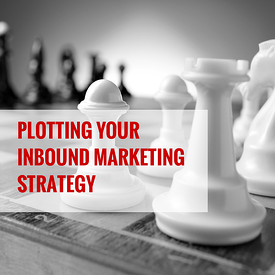 As a business owner, you can't afford to waste time or money trying various marketing tactics to see what might work. Instead, plan a cohesive inbound marketing strategy to ensure the best use of resources. An effective plan includes these primary areas of focus that you can build upon by asking yourself, "How will my company...":
Identify the right resources to create an effective team – Evaluate your firm's expertise and ability to take on additional work based on your budget. Consider hiring outside talent for specific roles and inbound marketing activities. A well-rounded team will cover project management, web design, web development, search engine optimization, copywriting, blogging, email marketing, data analysis, and social media marketing.
Define specific business goals - Saying you want more leads needs more specifics. Instead, create detailed plans. For example, "We'll increase sales by 30 percent over the next year via inbound marketing, outbound campaigns, and lead nurturing," or "increase qualified leads with targeted content, social media, and email." The goals revolve around converting leads into clients by leveraging engaging, stratified content, marketing automation, and intuitive business development.
Find our target audience – In addition to defining your business goals, it is equally essential to develop detailed personas of ideal client(s) niches, map their decision-making process, list influences and influencers--and note where they can be reached/found. Personas are the basis for inbound marketing – they are a cast of fictional characters, each possessing different roles, interests, priorities, goals, and pain points. Knowing what makes prospective clients tick will help create a more meaningful exchange.
Address our client's pain points - As previously discussed, identify and isolate your client's pain points by researching and listening to your audience. Learn what solutions they're asking for - identify what they are not finding. What industry trends are popular? Is there room for your firm to stake out a unique position? Understanding these things will help you respond with a specific inbound marketing effort.
Get found - People looking for your services will begin their quest using a search engine. The first step toward ranking high in results for the most relevant searched terms is incorporating keywords in your website. It is essential to look for the correct terms that are searched frequently and make every keyword a winner. Create a list of keywords or long tail keyword phrases with a relatively high monthly search volume and medium to low competition level. There are several resources to conduct your research, like Google's Keyword Planner. Use this tool to develop a list of pertinent keywords in the sweet spot of competition and search volume. This list of key terms and phrases will help you identify the kind of content you will need to create. Ensuring content is found through the right keywords and a practical SEO framework for placement will ensure the right audiences will find you.
Attract prospects with great content - Create helpful content daily to help solve problems by responding with postings on your website, blog, social media accounts, and discussion forums. Create content through downloadables, videos, and even live events, using a voice fitting the audience and formats fitting each channel.
Qualify the right leads - Stratify content to match interest levels shown by prospects/site visitors, beginning with freely offered content and segmenting prospects by type and interest level. In-depth content will guide users to your solutions, providing information, fueling understanding, and supporting decision-making. Automated emails are the best way to reach out to leads and answer their questions. Email automation gives leads a little nudge or reminder that you have valuable content available at their disposal. This encourages leads to re-engage with your content and move further down the funnel. The emails you send to top-of-funnel leads should answer the most common questions during your sales process.
Convert leads - Identify warm leads (repeat visitors with increasing interest), collecting contact information in exchange for downloadables or email subscriptions. Prospective clients who continue to revisit content actively move through the lead-nurturing funnel, allowing you to position your services by illustrating your firm's unique brand. Business developers can participate by tuning in at the qualifying and close stages. When a lead continues to engage, they are considered qualified and ready for business developer engagement.
For more information on developing your marketing strategy, contact Colosi Marketing.