When it comes to social media channels, Pinterest tops the chart for using visual content as an inbound marketing tool. Visual content in the form of an image or video can communicate a qualitative or quantitative viewpoint. They can show a vision or assist audiences with visualizing how to execute a plan. A series of images or a video can also show change. Combining this social media channel with a solid inbound marketing strategy, will help your audiences see how your firm can use pictures to illustrate ideas and provide solutions.
Try telling a story about your firm by communicating with an image! In your mind's eye, develop some initial ideas on how to showcase the firm's visual assets on a pin board. Start by attempting to answer the following questions, about your firm, with a picture or sketch:
How does your firm look at the big picture?
How does your firm interact with people and resources?
How does your firm relate with other disciplines?
What is your firm's approach to estimating or measuring?
How does your firm approach scheduling or phasing?
What is your firm's approach to solving a problem or moving in a certain direction?
At this point, you should have a series of sketches that show the character of your firm. These sketches are a great resource for developing an inbound marketing tool in the form of a pin board. After this exercise, you should be pretty pumped about your Pinterest site. Let's set up your account.

Business Profile
When you set up your Pinterest account you will need the email address you use for your firm's social network accounts and then sign up through the firm's Twitter or Facebook option. When you create your firm's business profile, you will need to take the following steps:
Add your company name and avatar.
Connect your social networks.
Reference your keyword strategy and add keywords to the description.
Include your firm's location and website.
Make sure to check "No" to Search Privacy to make sure search engines index your firm's Pinterest profile.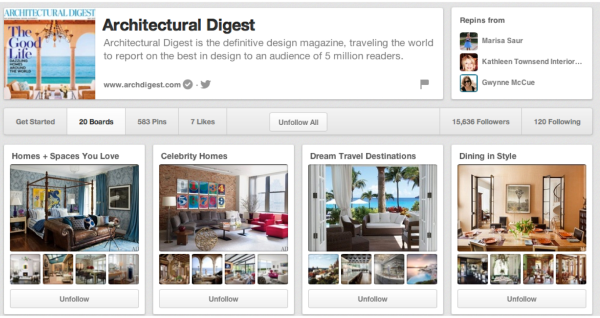 Pinterest Pin Boards and Pins
It is important to create a few pin boards before you build your Pinterest following. A lot of professional services firms are unsure of how to use Pinterest because they lack visual content. Refer to your sketches and take stock of your firm's existing visual content, including: visuals from blog posts, infographics or charts, presentations, images of team collaboration, and ebooks. Once you've conducted a thorough audit, take the following steps:
Pin Boards
Create a thought-provoking montage with a witty title.
Reference your keyword strategy and add keywords to the description.
Create a pin board that highlights your firm's brand and unique character.
Let audiences take a peak into your firm's culture with images and video.
Showcase project teams "in action" with a series of videos.
Showcase project case studies that demonstrates idea generation and solutions.
Showcase innovative products or materials and their application.
Celebrate your client relationships with a pin board.
Pins
Develop creative pin titles.
Provide content that sparks interest in your discipline and educates audiences about best practices.
Reference your keyword strategy and add keywords to the description.
Incorporate visually stimulating videos and images.
Don't forget to site your source and display the URL.
Provide image or photography credits.
Incorporate relevant infographics, charts and data.
Collaborate with a Group Pin Board
Inviting colleagues and guests to contribute their pins to your pin boards is a great way to strike up the conversation through images. By engaging your audiences and colleagues in your media, you are creating a sense of community with a gathering place that tells a story. Some things to consider when launching your group pin board include:
Develop a group themed board. Go to "edit" the group pin board and invite guests and colleagues to "pin", via email.
Encourage the firm's colleagues to "pin" and "repin" images of team activities.
Generate excitement and tell the story about a special event or tradeshow with a dedicated pin board.
Create an industry lifestyle board that provide images that show teams working together to build great things!
Analyze and Improve
Like any other social media channel, it is a good practice to analyze and improve on a strategy that is in play. Once your Pinterest site is up and running, it is an ever-changing resource that needs to be evaluated for what is working and what can be improved. The following areas need to be considered:
Are you meeting your Pinterest marketing goals?
What boards get repinned?*
Is Pinterest driving traffic?
Reference other similar pin boards. What seems to be working or not working for these business boards?
*Clue: There are than 14,000 followers on Dwell Media's Architecture | Interior Design Pinboard.
The following are examples of Pinterest pin boards:
Communicating your firm's attributes with an image or video takes skill. Incorporating visual content in your inbound marketing strategy is essential to capturing the attention of desired audiences and making a human connection. Taking the steps to sharpen and enhance these skills will strengthen your social media presence and create new opportunities for your firm.
…don't forget to have fun!